If you are suffering from depression, you are not alone. There are some approaches to treating depression. These include cognitive therapy, interpersonal, self-help, and alternative therapies. The best way to learn more about these different treatment methods is to ask your doctor.
Cognitive Therapy For Treating Depression
Cognitive therapy, also known as Cognitive Behavioral Therapy (CBT), is a therapy for depression that aims to reduce depression and other psychological distress by teaching people to modify their thinking, feelings, and behavior. This technique is often used in combination with other treatments, including medication.
There are two main types of CBT. One focuses on the thoughts, and the other focuses on the behaviors. In both cases, the therapist helps the patient identify negative thinking patterns and replace them with more rational, healthier ones.
During a cognitive behavioral therapy session, the therapist asks the client to examine the validity of their thoughts and perceptions. They may also ask questions about the relationship between their thoughts and feelings. This is done to develop a more objective perspective on their situation.
Cognitive therapy can be conducted in person or online. The cost is low, and many people can significantly improve after a few sessions. Typically, a cognitive therapy course will last 12 to 20 weeks.
A Typical CBT Session For Depression
The techniques employed by a cognitive therapist can include a positive data log, thought journaling, and mindful meditation. These exercises help the patient to notice and record the most significant aspects of their daily life.
During a cognitive therapy session, a therapist will often set homework for the client to work on. These activities may focus on the consequences of depressive triggers, the benefits of engaging in self-care, or the importance of rewarding themselves for productive behaviors.
While most people seek out a therapist for depression, cognitive therapy can be an effective method for other mental health problems as well. Besides helping to improve symptoms, it can also be a helpful tool for dealing with stressful situations. The ACT method can reduce anxiety and judgment and enhance focus.
Cognitive therapy is an important treatment option for mild to moderate depression. While it is not a cure-all, it is an effective and safe treatment for depression. It is not expensive and is a more effective alternative to prescription medications.
Interpersonal Therapy For Depressed Mood
Interpersonal therapy (IPT) is a form of therapy that focuses on improving your social skills and relationships. During the treatment phase, you and your therapist will work together to identify the major issues and problems you are dealing with. This can be done in a variety of ways. It may be in the form of one-on-one or group sessions with others. It is usually a short-term treatment that involves 12 to 16 sessions.
While there is no definitive proof that IPT works better than other treatment forms, it has some notable positives. It can be a good fit for individuals who are willing to put in the effort to make the change. It can also help you cope with stressors that might otherwise lead to recurrences of your symptoms.
While IPT is not a cure-all, it can improve your symptoms and help you manage your relationships without seeking outside assistance. The goal is to learn how to maintain healthy boundaries and avoid the stressors that could lead to new episodes of depression.
IPT is a relatively short-term therapy that requires about two hours of your time per week. The benefits of this form of therapy include improved interpersonal skills, confidence, and increased independence. It is usually best suited to individuals in a safe relationship with their therapist.
Self-Help and Support Groups For Depression
Many people seek alternative therapies for depression, and there are various options. Some are helpful, while others may not be. It would help if you spoke with your doctor to determine which options are right for you. There are also self-help measures you can try. These include meditation, exercise, and diet. You can even learn to relax and manage stress. However, if you have serious symptoms, you may need medical help.
Another option for improving your depression is to participate in a support group. These groups are typically organized around a spiritual or religious belief. These groups offer emotional and spiritual support to help you work through your depression. If you have mild depression, you may be able to treat it on your own. You might want to participate in a group session or use a reputable self-help book. If you don't have access to a therapist, you can also find online support.
Alternative Therapies For Depression
Taking herbal remedies is a third option for treating depression and anxiety. Some of these are made from plants, like CBD oil, and you can find them without a prescription. Many herbal medicines interact with other medications, and you should talk to your doctor or a qualified clinician before using them.
You can also combine herbal remedies like CBD with working with a therapist to identify the contributing factors in your depression. Cognitive behavioral therapy can be effective. In this therapy, you will work on changing behaviors contributing to your depression.
Don't Give Up
Don't give up on your depression. Remember that it is going to take time to recover and self-care days are important. It is OK to have days when you don't feel good. You should keep in mind that you should still prioritize healthy living. Reach out for help when you need it, and if you ever have suicidal thoughts, call or text 988 for free emotional support 24/7.
Pin This Post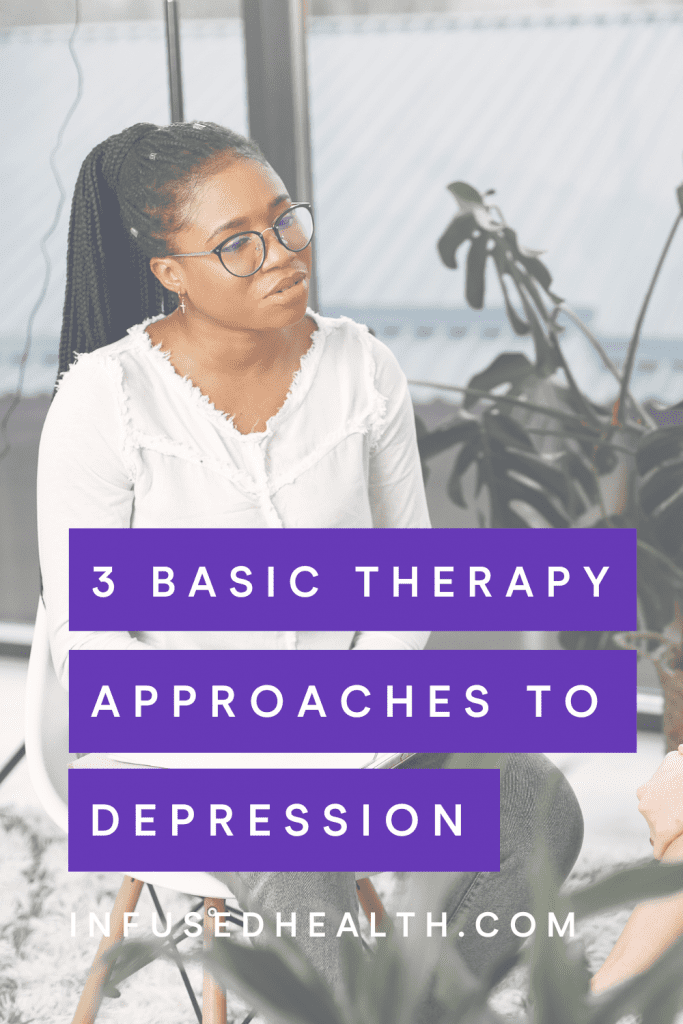 Dr. Michele Ross, PhD
She is the author of Vitamin Weed, Kratom is Medicine, CBD Oil For Health, Train Your Brain To Get Thin, and Journal Yourself To Health.